NHSScotland Careers
28 August 2023
•
4 min read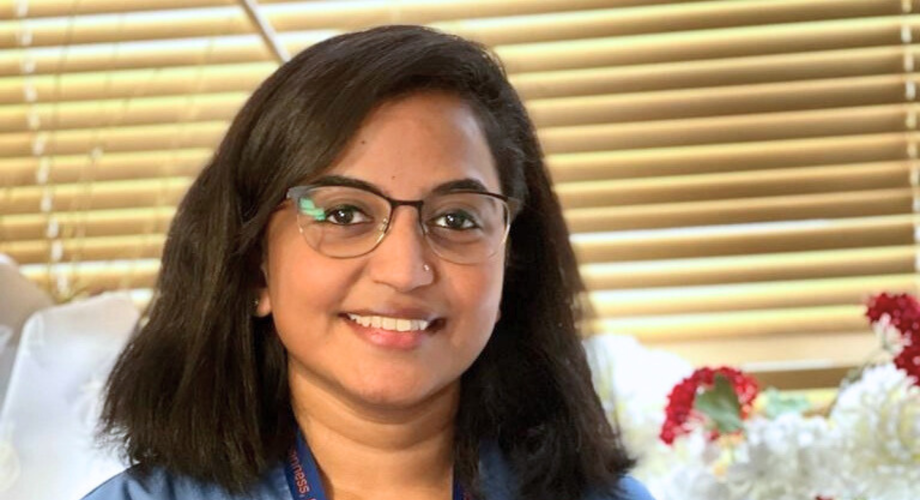 Senitha's story
Hello, I'm Senitha, a staff nurse caring for patients at Borders General Hospital.  
Since joining the nursing team in April 2022, I've helped internationally trained nurses coming to work in Scotland to prepare for their OSCE competency test. It's part of the registration process for international nurses who want to work in the UK. I also provide clinical skills education support to newly qualified nurses in NHS Borders. 
I trained to become a nurse in India so I could make a difference in the lives of others. Nursing is a challenging but rewarding profession that requires a high level of skill, dedication, and passion. It can also provide personal growth and fulfilment as nurses gain knowledge, skills, and expertise over time. 
I decided to look for nursing job opportunities abroad to develop my clinical skills, build confidence, and move towards my professional career goals. 
International recruitment process 
The recruitment process was an easy and positive experience. After passing the Occupational English Test (OET), I registered with a nursing recruitment agency in my home country. Find out more about the OET English language test for healthcare professionals. 
Why Scotland? 
I did lots of research online before choosing Scotland as my ideal place to live and work. I watched many videos about Scottish culture and lifestyle and read about different places to live. I also learned about career opportunities for qualified nurses in Scotland's health and social care sector.
Scotland has excellent art and culture, impressive mountain ranges and beautiful lochs. These all helped me make my decision to choose Scotland to work.
The recruitment agency listed UK job vacancies on its Facebook page. When I saw the job opportunity with NHS Borders, it ticked all the boxes. I decided to apply and had an interview with the nursing recruitment team in January 2022. As soon as I received my employment offer letter, I started the registration process with the Nursing and Midwifery Council (NMC). 
NMC registration 
I worked as a pre-registered nurse in a hospital while preparing for the Objective Structured Clinical Examination (OSCE). All international nurses must pass this competency test to register with the NMC and work in the UK. I became a registered staff nurse when I passed the OSCE and completed the NMC registration process. 
Due to my experience as an internationally trained applicant, I mentor and support others.
I was very proud when the education team at NHS Borders asked me to support other international nurses to prepare for the OSCE exam.
The NHSScotland Academy has also designed learning resources to guide and support international nurse learners. Find out more about the OSCE preparation programme.  
Day-to-day role 
Working in the NHS has allowed me to improve my clinical knowledge. I feel supported and appreciated, and I've found a flexible career in Scotland with a healthy work-life balance.
As I'm from India, I thought I may face racism, but I haven't. The Scottish people are friendly, welcoming, and kind-hearted.
Mornings 
My shift usually begins early, at 7:30 am. I start by reviewing patients' charts to see if any emergencies occurred overnight.  
The next thing is a hospital ward round. This includes wound care and changing dressings, monitoring patients for a change in condition, and following up on results from the hospital laboratory.  
Having regular check-ins with patients is what I enjoy most about my role as a nurse. It helps me to see how the patients are, how their night was, and what they need. 
I make sure patients are comfortable and have breakfast before administering morning medication. I help patients to get up out of bed if they can and encourage movement to maintain and improve their mobility. I also help to prepare patients for surgery. 
While on shift, I work with the administration team to admit new patients to the ward and add them to the patient management system. 
Afternoons 
In the afternoon, I update patient charts, administer afternoon medications, and care for patients recovering from surgery. I also help to discharge patients from the ward. 
To keep family members and carers updated, I talk to them during hospital visiting hours and answer any questions they may have. 
Continuity of care 
Before I finish for the day, I prepare documents for staff on the evening and night shifts. At 7:30 pm, I hand over my patients to the night shift staff for continuity of care. 
Find out more about nursing roles in the NHS. 
Clinical skills preceptor 
As well as working as a staff nurse, I am also a clinical skills preceptor in the education team, helping to support and train newly qualified nurses. The role has helped me to develop my communication and teaching skills and improve my confidence. 
My next career goal is to become a nursing practice educator full-time.
I can't wait to find out where my nursing career in NHSScotland takes me. I'm ready to use my clinical skills and teaching experience to help others.
Are you thinking about applying for nursing jobs in Scotland?
My advice to internationally trained nurses thinking about applying for jobs in Scotland includes the following: 
Do your research to find out about the international recruitment process, nursing job opportunities, and where you might want to live and work in Scotland. 
Visit the NMC website and use the pre-application checklist to check that you are ready to register as a nurse in the UK. 
If you're eligible to work in the UK, register with an agency in your home country or apply for nursing vacancies on the NHSScotland recruitment website. 
Prepare for and sit an English Language test. 
Sit the NMC's computer-based test. 
Keep in regular contact with the NHSScotland recruitment team. They're there to help and are happy to answer any questions you have. 
You'll start to work as a pre-registered nurse while you prepare to sit the OSCE exam. Your NHS employer will provide OSCE guidance and support. 
Once you pass the OSCE, you'll complete your NMC registration and work as a registered nurse in the NHS.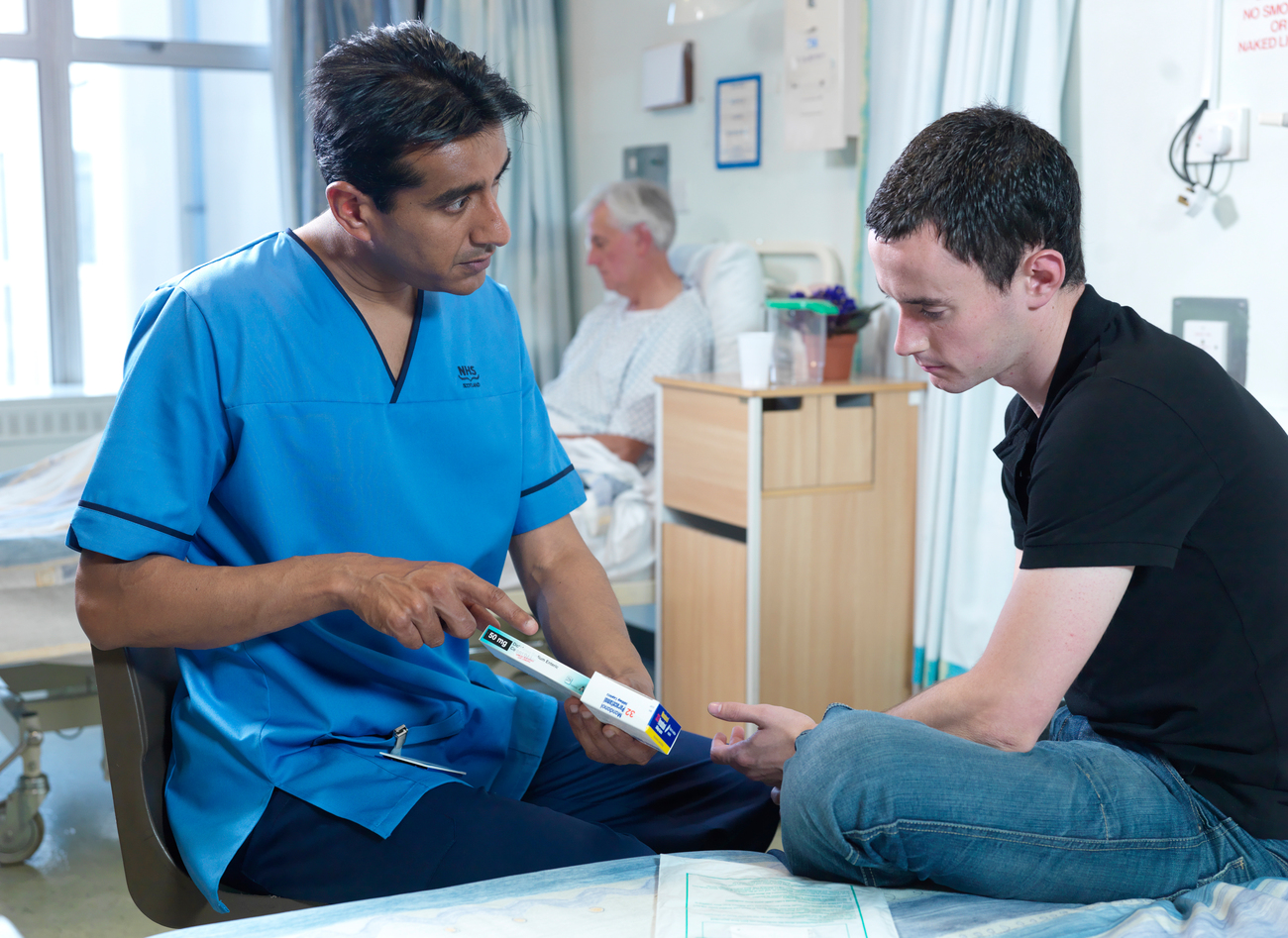 Take the next step in your nursing career journey
We want to hear from you if you're a qualified nurse and eligible to work in Scotland! Like Senitha, you can find a flexible and rewarding NHS career in a wide range of specialties in locations across the country. Find out more about the international recruitment process for nurses.